Generac Generator Installation & Service
FREE maintenance for the first 12 months*!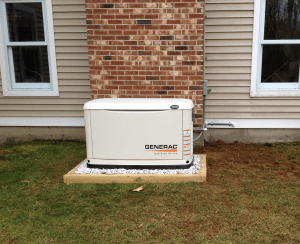 There are countless scenarios where a generator might come in handy -- bad weather, grid overloads, fallen trees, and accidents to name a few. While Connecticut may not experience many hurricanes or tornadoes, power outages can happen for something as simple as the overuse of air conditioning units on the same neighborhood power grid. Being prepared with a generator ahead of time is the best way you can be prepared against a blackout or brownout and the professionals at Patnode Electric are here to serve you. Patnode Electric is your authorized Generac generator installer in the Tolland County area.
Keeping the Power On
At Patnode Electric, we wire your home or business to automatically turn your generator on at the first sign of an outage or turn your generator off at the first sign of power restoration. We make installation easy and work with you to schedule yearly maintenance so that your generator is always in solid working order.
*We offer our customers FREE maintenance for the first 12 months with a service contract and installation of a standby generator!